GARAGE DOOR BROKEN SPRING REPAIR DENVER COLORADO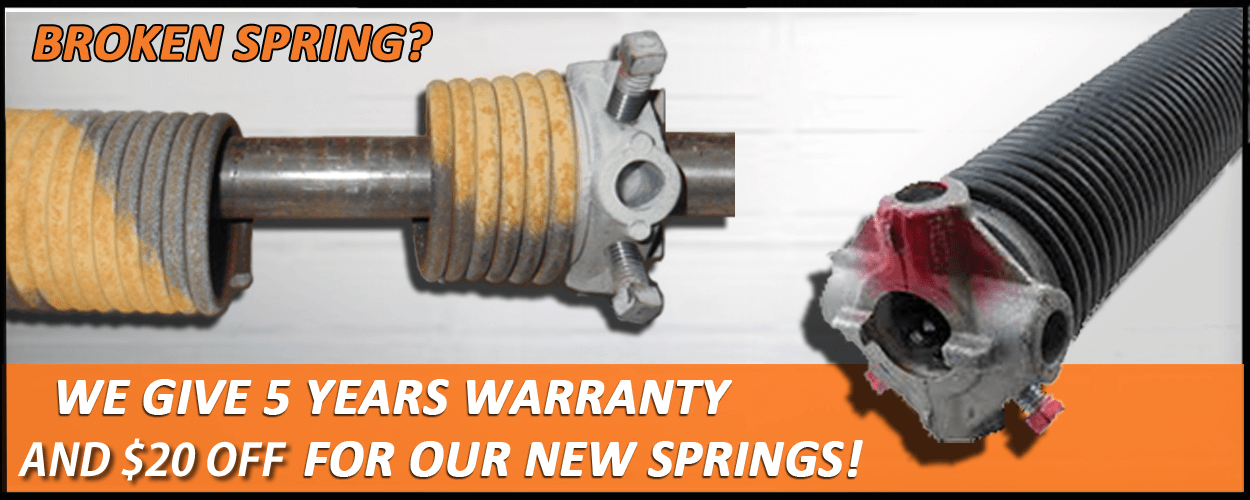 Are you in need of a reliable company for your garage door broken spring repair Denver CO?
We can help you!
Rocky Garage Door Repair is one of the most trusted companies for garage door repairs and related services in Denver. Our expert team can easily handle any type of garage door repair – whether you need garage door spring replacement or a broken spring repair service, we can do it all for you!
Our team is experienced, and we have worked with some of the leading garage door brands like Genie, Chamberlain, LiftMaster, Amarr to name a few. We have a well trained and experienced team that can efficiently determine the correct repair needed. If a replacement spring is needed, we will offer that option as well. 
GARAGE DOOR BROKEN SPRING SERVICE
If you need a garage door broken spring repair service, you can trust Rocky Garage Door Repair! These types of garage door problems can cause the jamming of a garage door, a garage door going off track, or a garage door not opening properly. Most of the time these issues are related to a damaged or broken garage door spring. 
Once we hear from you, our experts will reach your home on the same day, analyze the problem, provide a solution, and install or fix your garage door spring. We have in-stock more than 40 different sizes of garage door springs – any problem can be fixed professionally and quickly. 
Our garage door broken spring and other services are available 24/7 at affordable prices!
GARAGE DOOR SPRING REPLACEMENT SERVICE
What causes the wearing out of garage door springs?
They can wear out due to regular usage, low maintenance, rust, or other reasons. A garage door spring does have a limited life. A standard garage door spring can last up to 15000 cycles; which means it has a life-span of 5-7 years.
So, if you notice that you are having a problem in opening your garage door properly or you find the spring is broken; our technicians can visit you the same day. Our garage door spring replacement service is available 24/7 at affordable prices! Learn more about how our skilled technicians can offer you the best options and solutions!
CONTACT US FOR GARAGE DOOR SPRING REPAIR DENVER CO
Get your door fixed by the experts at Rocky Garage Door Repair and say goodbye to your garage door issues. We work 7 days a week and provide our garage door repair and installation services in and around Denver.